Monday, August 9th, 2010
Mondays Are Unacceptable
We should do something about Mondays.  I already know that today is going to be a challenge.
This was me, on my birthday last week…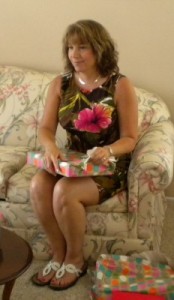 Sure I have thick legs and pool hair ( you probably can see how wavy/funky it really is). But I apprear semi-normal, yes?
This is me after dealing with computer problems Sunday, and knowing I have to call MacAfee today…

Sigh.  Monday's suck.
Other than that,  my weekend has been pretty good.  I've gotten started on my revisions for Key's book  SINFUL MAGIC. For a week, I've sort of been frozen, not sure how to begin, but I finally slapped myself (Wizard volunteered for the job of slapping me, but I turned him down)  and got to work.
And speaking of Wizard, he is still coming up with possible Alternate Endings from my latest Dumb Witch Story of going in the wrong restroom.  One of his favorites is seeing my picture flashed on America's Most Wanted.  Every night he treats me to a new scenario. And much laughter. At my expense.
So how was your weekend?