Thursday, September 2nd, 2010
Winners of THE BEAST WITHIN
You all did a fabulous job of comments on whether wizard should get me a puppy.  Sadly, NOTHING is swaying him!
NOTHING!
Not even this puppy–this little 8 week old Doxie…how cute is he?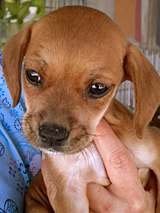 Evidently NOT cute enough for Wizard. I sent The Wiz this pic and what did he say? "I don't like his nose."
His nose?????  What's wrong with his nose? It's an adorable nose!
But you know what cheers me up? Picking two winners to send THE BEAST WTIHIN to! Okay, I didn't actually pick the winners, Random.org did.  And now, no more stalling or cute puppy pictures! The two winners of a copy of THE BEAST WITHIN Anthology are:
Comment #4 KAT
Comment #1 JANE
Congratulations Kat and Jane! Please email me at Jenniferlyonbooks@gmail.com or Jenapodaca@aol.com with your mailing address!
Happy Thursday Everyone!