Tuesday, September 7th, 2010
So Close!
Had a great weekend, although I did spend half of it working.  But Friday night I whined mentioned repeatedly how much I wanted a dog to Wizard.
Saturday Wizard said, "Let's go to the animal shelter."  So we went and looked at all the dogs. Sadly we didn't get a dog.
I fell in love with this little guy. Wizard liked him too.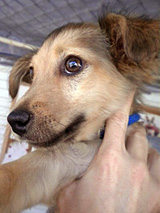 He's an 8 week old terrier mix, BUT someone else already had a hold on him. The shelter even called the person to make sure she was still interested, and of course, she was.
Sigh…
But Sunday Bailey Dog came over and spent the whole day. It is impossible to be sad when Bailey is around. He just spreads joy.
Of course Wizard is denying that he liked that dog and was actually considering getting him, but I know the truth–the right dog will win Wizard's heart!
So how was your weekend?