Thursday, September 9th, 2010
I'm tired, I haven't been sleeping and can rattle off a whole list of complaints.
But I won't! And you're very welcome for that, LOL! I'm nearing the end of my revision on SINFUL MAGIC (Key's book), which is great news.  It's shouldn't have taken so long and I'm not sure why it did. This book has just been different. Plus once I do finish this part of it–I have to go through for a clean and polish. But still–the end is in sight! I love Key so much, I want this book to be really good, but I just can't tell at this moment.
I'll have a better feel for it once I read through it.
But back to my whining…so I'm tired.  And what makes me feel better?
Any guesses?
Okay here's a hint…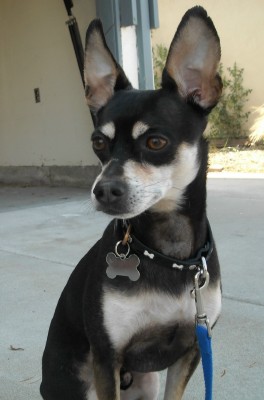 It's Bailey Dog! This is a picture of Bailey sitting outside his house waiting for me to get there and play with him! (Okay I'm making that up–it's just a random picture my son sent me–but I'm sure that's what he looks like when he knows I'm coming over!) Bailey always makes me feel better!
What about you guys? What makes you feel better when you're tired?