Monday, September 13th, 2010
Monday Round Up!
It was another working weekend, but I have make big progress! I'm so happy! I finished all the heavy revising and now I just need to add a few things then get the whole thing cleaned up.  The way I cut, paste, rewrite, then move scenes again, it's bound to be a mess. But still, the end is in sight!
YAY! And right now, I'm feeling decent about the it. This is Key's book SINFUL MAGIC. We'll see what my editor says when I send it to her in a week or so.
Now let's talk about my weekend distractions. First on Saturday my middle son and Bailey Dog came for a visit. Middle son and Wizard, so Bailey stayed with me.  I knew I had to work, so I took Bailey for a walk to tire him out. Here he is after our walk: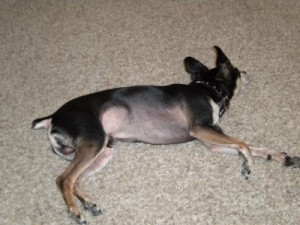 But then he got lonely. He looked up at me with his big brown puppy eyes that pleaded,  "Can I sit with you?"
But I was at my desk using my slide out key board. Very firmly, I said, "No Bailey, I have to work."
He looked even sadder. "Please?"
"No." I was serious. I had to get this book written!
Well you can see how well Bailey listens: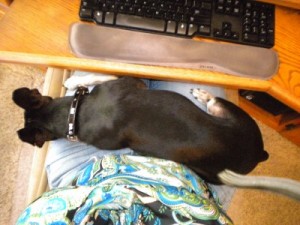 That's  my big hips and thighs Bailey's making himself comfortable on. He slept there while I toiled away.
On Sunday, Wizard lured me away from the computer and into the pool and jacuzzi…there may have been a bribery in the form of a gin-and-tonic. Wizard is evil like that.  It's a miracle I get any work done at all!
How was your weekend?