Thursday, September 30th, 2010
Do We Need More Hot, Sexy Wizards?
Okay, it's Thursday, it's been brutally hot here, and I've spent so much time playing with Bailey instead of working that I feel guilty. So what the heck, lets do some promo!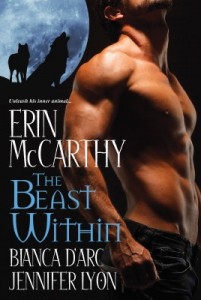 I stumbled onto a quick review of REDEEMING THE WIZARD from THE BEAST WTIHIN ANTHOLOGY here, This is what it said:
Redeeming the Wizard – Jennifer Lyon – I have to say this story made the book for me. I loved it. Gage and Mira lit the pages on fire and I found the details Lyon put into the plot just added to the overall feel of the world she created. Gage with his totally sexy mantling was a major draw and Mira with her indomitable spirit kept me reading. The secondary suspense plot was somewhat transparent but it did not curtail my enjoyment of the story overall. I am hoping this becomes a series because I find I can't wait for more sexy wizards.
I have two things to say; first I love positive reviews, LOL! (I have zero problems with things like saying the secondary suspense plot was somewhat transparent–it was).
Second, I would LOVE to develop this into a series! But the chances of that happening aren't huge for many reasons. Still…I love this reviewer for saying it!
So anyone out there think there's a need for more sexy wizards???