Tuesday, September 28th, 2010
Bailey and What Are You Reading Next?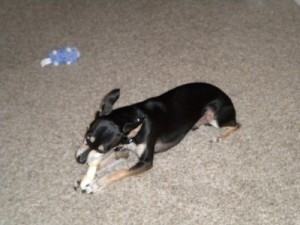 Bailey is chewing on a rawhide bone while I do this blog.  The dog is wearing me out! LOLOL!!! He's a bundle of fun, and I have zero discipline! Plus I am walking WAY more than I should on my bad ankle AND I was too busy playing with Bailey yesterday to pick up my meds for the stupid ankle

Hmm, I guess those are checks in the Wizard column (reason's not to get a dog) on our Dog Wars.
I did manage to finish the draft of my synopsis. I still need a few days to rewrite and refine it, but I got the basic story down EASIER than usual. As if…Bailey sparks my creativity.
Hmm, check in the Witch column (reasons to get a dog!)
Okay so far it's a draw…
Next I'm going to read FAERIE FIRE by Silver James–I'm thinking I'll start it tonight. Really looking forward to that book! What book have you been waiting to read?