Tuesday, October 12th, 2010
Klutzy Witch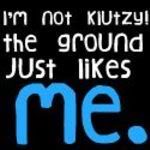 Okay here's the story. I'm not really a slacker, I am a klutz.  Sunday evening, I was walking by Wizard, caught my little toe on his shoe and the rest is kind of a painful blur,  but I felt something wrench in my foot/little toe area.
I was having a small dinner party with my son and his girlfriend, so I continued on until everyone became aware of the ugly swelling and discoloration on my foot.
Anyway, I spent Monday at the doctors and getting x-rays, and now we're waiting for the results of the x-rays to determine how much of a klutz I am:
A Bruised Klutz
or
A Fractured Klutz.
Sigh. It's around the upper part of my little toe on my left foot. Trust me, it's not pretty.  Swollen, bruised and making everyone who sees it wince.
Note to medical personal: Your sympathy winces and cringes are not helping. Appletinis would be more helpful…just saying…
Poor Wizard. I swear he was just standing there! Even after all these years of knowing me, he's still a little stunned that I could manage to get hurt just walking by him.  Naturally I was barefoot, but to his credit, Wizard hasn't yet said, "How many times have I told you to wear shoes?" He'll say it when I'm feeling better, I'm sure. But for now, he just winces like everyone else.
Anyway, that's me, the big klutz. Anyone else have klutz stories? Or am I the only klutz?