Thursday, October 14th, 2010
Giving Away 2 Copies of ETERNAL HUNGER!
I bought two copies of my friend and critique partner, Laura Wright's book ETERNAL HUNGER. I had intended to keep one for myself and give one away here on the blog.
Last weekend, I saw Laura at our local RWA meeting, and was surprised and very touched that she gave me a copy of the book. So…I now have two copies of ETERNAL HUNGER to give away! And Laura graciously signed them!
This is Laura and me at the meeting.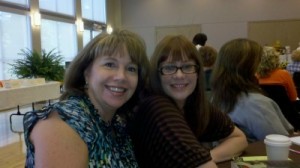 She's the cute on in the glasses!
All you have to do leave a comment telling me why you love vampires or paranormal books, and I'll put you in the drawing. I'll announce the two winners on Monday.
Good Luck!