Monday, November 1st, 2010
I Got Two Things
This weekend I got to things:
A stomach bug and…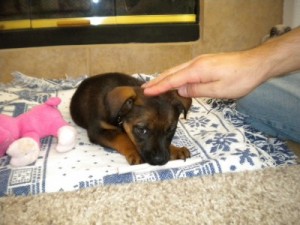 This is Sadie, an 8 week old shepherd mix. We got her late Saturday–I love her. Wizard and I were instantly impulsive smitten.
But I'm going to be honest, I'm not 100% sure we can do this with such a little puppy. We're going to try, and I want this to work! But OMG it's a lot of work.  We're trying to crate train her and get her to, you know, sleep at night.  PLEASE!!!
It's seriously bad timing that I'm sick.  That's why I don't sound excited by the way.  I am–but overwhelmed too! And worried.
How was your weekend? (I may be slow to answer…this week (month!)is going to be a huge challenge.