Tuesday, November 23rd, 2010
Reading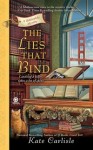 I'm finally getting to read Kate Carlisle's book THE LIES THAT BIND. I'm half way through it and really enjoying it! its the third book in the Bibliophile Mystery Series starring Brooklyn Wainwright. Brooklyn is funny and charming, and I just love this series.
And Huge Congratulations to Kate for hitting the New York Times Extended list with THE LIES THAT BIND and the first two books in the series!
What are you reading?