Thursday, February 3rd, 2011
What Are You Reading?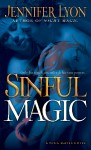 I'm reading the page proofs for SINFUL MAGIC. This is the point where it is type set and we're just looking for mistakes.  This is hard for me because I never think the book is good enough. But this book is especially hard–I am just too close to be able to tell if it's okay or not. I'm trying not to worry too much. I'm about 100 pages into the page proofs.
Most of my other reading is contest books or books I'm reading for work.  Once I'm writing,  I just don't get to read as much.  That's something I hate, a definite downside of being a writer.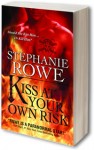 For example, I've been reading-for-pleasure a book on my Kindle for way more than a week now. It's called KISS AT YOUR OWN RISK by Stephanie Rowe, a humorous (insane!) paranormal, but I'm having trouble finding the time to finish it. I'm almost there…maybe one more day of stolen moments of reading and I'll be done.  But if you like over the top funny, then you'll enjoy this book.
What about you all? What are you reading?