Monday, March 21st, 2011
Weekend Roundup
One more day until NIGHT MAGIC officially hits the bookshelves!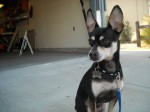 My weekend was good. Wizard and I went to see his mother, which is always fun. But it got even better because two of my sons came by and they brought Bailey Dog! Bailey and I hung out. I definitely need more Bailey Time in my life.  That dog just makes me smile.
Later that night Wizard and I went out for a steak and lobster dinner. While driving home, I was chatting about Bailey,  and about Sadie…
It has taken both Wizard and I awhile to deal with having to give her up.  For those of you who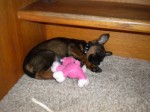 don't know, that was the German shepherd mix puppy we had for three weeks.  She was a great puppy, and training fast with things like simple commands the leash. But she got sick and I was sick, and in the end, we had to return her to the rescue people. (Sadie's fine, I checked up on her once and she was doing well ).  For weeks I was broken hearted and disappointed  in myself. I couldn't talk about it (except to Wizard and a few friends.)
Now I've accepted that it was bad timing.
Now back to Saturday night, on the way home. I was chatting away, when I suddenly asked Wizard:  What if someone was willing ot give us an adult dog who is already trained? What would you do?
Wizard immediately said,   "I'd take the dog." Then realizing what he said, he looked at me and asked.  "Why? Do you know someone?"
Me:  "Nope. Just seeing where your boundaries on the issue are."
Wizard did that slow smile he does when he thinks I'm going to challenger him somehow, because he loves a challenge.  "You're plotting something."
"Who me?"
Bwhahaha!!! I'm actually not plotting anything at the moment.  Just, you know, thinking.  I know I can't handle a puppy with my work schedule and other issues at this time in my life.   And I never want to go through the pain of giving up another dog.  And yet, I still want a dog.  So a trained older puppy or adult dog? Hmm…is there a spell for that?
How was your weekend?