Thursday, March 24th, 2011
What Are You Reading?
Before we get to reading, how sad is it to lose such an icon as Elizabeth Taylor? She really lived as the heroine of her own life. Quite amazing.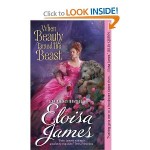 Now onto reading! I'm reading WHEN BEAUTY TAMED THE BEAST by Eloisa James. I'm a half to two thirds of the way through and really enjoying it. I don't really read a lot of historical romances anymore, and now I'm wondering why? It's a really fun book. The hero is bad tempered and shocked that the heroine doesn't put up with his crap. Always a good time!
So what are you all reading? (And please,I'm am NOT fishing for comments on Night Magic, I really want to hear about all the great books you're reading so I can pick my next Kindle book!)