Thursday, April 21st, 2011
Scarce Today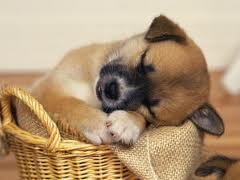 I feel like this puppy–except not as cute. In fact, I feel like a wrung out dish rag! But this puppy is more more fun to look at than a dish rag.
Anyway, Wizard got it into his head to actually listen to me while I was whining about needing the carpets cleaned. So he took a day off work and booked a carpet cleaner for today.  Which required me to spend two days cleaning out crap and moving furniture, vacuuming and …I'm already sore.  And Wizard has been doing his part too, I can't even accuse him of slacking.
And we still have to move everything back.
What's really sad is that this is how Wizard and I spend our vacation days. We obviously need an intervention or life coach or something.
We're thinking we might do something fun tomorrow, if we're not too sore.
Not sure how much I'll be online, but go ahead and share: What did you do on your last vacation day? I bet it was more fun than this!