Tuesday, May 31st, 2011
Catching Up and Release Day!
A quick note:  If you're looking for the winners of the Book A Day Give Away, scroll down to Monday's blog.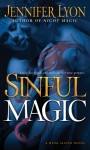 We're back to the normal blog now! I missed you all! I've mostly been doing promo stuff for SINFUL MAGIC. But Wizard took Friday off,  so we had a 4-day weekend. On Saturday, we went to the Midway Museum in San Diego. The Midway is a retired aircraft carrier and so awesome! We had a lot of fun.
Monday was quiet, we made ribs and hung out in the Jacuzzi.
Today is the official release of SINFUL MAGIC! After waiting so long, it's hard to believe both books (NIGHT MAGIC and SINFUL MAGIC)  are out now. I really hope readers like Key, Roxy and Dyfyr's (the dragon) story.
Okay now it's time to catch up with all of you! I know Ban got her puppy,  what else is going on with you all?