Monday, May 30th, 2011
Winners of Book A Day Give Away!
Reading all the comments has been a blast! I could  NEVER have picked a winner, so I used the Random Number Generator to choose.  Every winner is announced by comment number and name. You can check the comment number in the comments.  The comment box shows the number in the upper left hand corner.  Okay let's get started!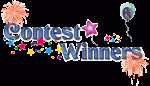 The Winner of BLOOD MAGIC is Comment Number 107 Amy Z!
The Winner of SOUL MAGIC is Comment Number 71 Ren Puspita
The Winner of NIGHT MAGIC is Comment Number 60 Kathy
The Winner of SINFUL MAGIC is Comment Number 95 Nancy Ambrose
The Grand Prize Winner of all four books is Comment Number 39 Alyssa
Winners, please email me at Jenniferlyonbooks@gmail.com with your mailing address, and let me know if you would like the book(s) personalized or just signed.  If you have any trouble with that email, you can go to the contact page of my website here and use the email box there and it should go through.
To everyone else, thank you so much for visiting and entering!
SINFUL MAGIC is on sale tomorrow! And the blog will return to normal