Thursday, May 19th, 2011
A Perfect 10 and Bailey
Let's get the required promotion out of the way: SINFUL MAGIC got A Perfect 10 review from Lenore at Romance Reviews Today. The actual review will post on June 1st.  Here's a clip:
SINFUL MAGIC is yet another sizzling and thrilling novel in Jennifer Lyon's Wing Slayer Hunters series. Key and Roxy are characters to fall in love with. The chemistry and spark works perfectly with just enough sexual tension to keep readers on their toes. Lyon not only writes a heck of a love story but an action packed thriller as well. The plot moves smoothly and quickly, sucking readers in deeper page after page.

… A Perfect 10 in every way, I loved SINFUL MAGIC and cannot wait for the next book in the series.
As you all know, I was worried sick about this book. I just couldn't tell if I had adequately captured the story.  Now I have hope that I did

And now, it's Bailey Time! My youngest son moved in with Bailey and my two older sons earlier this year.  All three of them know I love, love, LOVE Bailey. So youngest son sends me an email yesterday with the subject "Ha ha". I open the email and find this picture: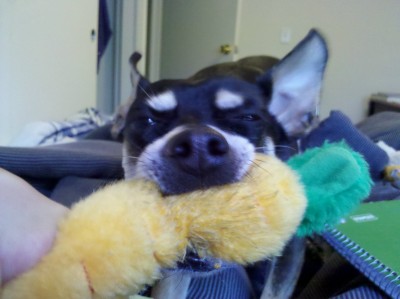 And this message: "You don't get to play with him. "
Tell me again, Why did I have kids?