Tuesday, May 17th, 2011
THOR!
Okay, so yesterday Wizard took the day off. Usually Mondays are super busy, but I woke up at 5:30 am in a panic that an RT (Romantic Times) article was due THAT DAY.  So I popped out of bed and raced to my computer to check.
I was wrong! It's not due until the 21st! But since I was up I jumped in the shower and went to the gym. I asked my sleeping Wizard if he wanted to go with me. He peeled open one eye and growled. Okay, yeah, it was a little early.  I left him to dream of me (cough-cough) and went to the gym.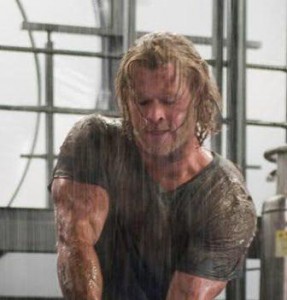 So what's my point? I got done with everything early on Monday and had time to go to the movies! Wizard and I saw THOR and I loved it! I think the beginning was a little slow with all the backstory, but once it got moving, I loved it.  When it ended Wizard said, "Wait, that's it?"
Gleefully, I said, "Yep, there will be a sequel!"
Wizard signed manfully and said,  "We'll be going to that, won't we?"
"Oh yeah! Now where are you taking me for lunch?" And we went to lunch. As we ate, Wizard confessed that he liked the movie too.
Then we came home and ate a ton of M&Ms.  Which probably explains why I'm trying to make myself join Weight Watchers on Thursday…I'll let you know if I follow through on that.
And that was my Monday–what did you do?