Thursday, June 9th, 2011
Bookscan and Bailey Time!
First,  a huge THANK YOU to everyone who bought Sinful Magic! The book hit the Bookscan Bestseller List (in the top 100) and I'm thrilled!
Yesterday, my youngest son and Bailey came over,  completely surprising me.  Naturally, I got no work done.  Here's a pic of Bailey later in the day–he was tired and chewing on his stick while Mini B watches: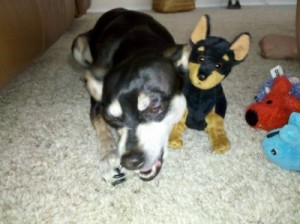 What did you do yesterday?