Thursday, July 21st, 2011
Fun with Bailey
I had unexpected visitors yesterday–youngest son and Bailey dog–and I ended up getting nothing done.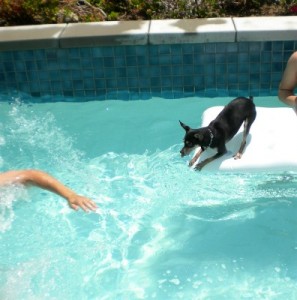 This is a picture from last summer, but he was in the pool with us. Well actually, he stepped on me as I was laying on the raft.  Just stood on my stomach.  He doesn't really like the pool, so I was surprised.
Then youngest son went out to see friends and I dogsat  poor Bailey. He frets and worries when they leave him, even with me.  But then we went out back and chased lizards (Bailey chased them, I stood there and laughed).
But no words got written and no prep for Wizard and my weekend plans. So frustrating, but how can I ignore Bailey (and my son!)?  Ah well, that's what today is for! And I guess I'll just have to wait until next week to get back to my dragon project

Hope you all have a great weekend! I'll be back online Monday or Tuesday!