Tuesday, November 15th, 2011
Tired Witch
I'm hoping that tomorrow, when this posts, I will be more rested. It's just stress and my constantly waking at night. It'll pass.
The proposal I'm working has had me super energized until I hit this tired wall thing. Then I am fighting some ugly doubts.  And when I do that, I start looking at something that makes me feel better.  Like this picture of a puppy: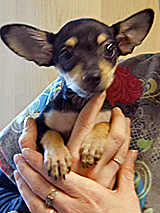 Look at those ears! That amused me.
Wizard–not so much. He saw me looking, and turned pale.  Then he said, "We need Bailey (my son's dog) to come over, stat!"
I laughed. "I'm not looking to get a puppy. Just distracting the voices in my head."
He rolled his eyes. "Yeah, that's so much better."
I'm not sure what cheered me up more, the puppy picture or Wizard.