Thursday, January 19th, 2012
My New Reality
Yesterday was another lost day for writing.  Broken Leg Boy and I spend the day running around-which is a process with crutches and a wheelchair. We went to his college which  is about 40  miles away from where I live to talk to the disability department and see if BLB can manage school.
School starts next week.
Yeah…probably not but we'll see what BLB's final decision is in a day or so.  This is hard for him to lose a semester. And I can't fix this for him, damn it.
But whenever BLB gets down, we have a sure fire cure–Bailey Dog! We went by BLB's house (where Bailey lives). When  Bailey saw him, he started to cry with excitement. I swear it's like watching those returning war vet videos.
Just to give you a visual, here's Bailey protecting BLB right after he came home from the hospital.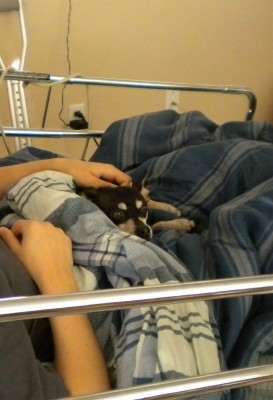 Bailey insists on laying across him in the bed or wheelchair.  It's magic, seriously.
So maybe I'm losing a day here and there (and everywhere!)  of writing, but it's harder on BLB to face losing an entire semester of college.
And anytime I need a serious reality check? I have a casual friend whose husband had an accident many years ago and is paralyzed.  So I remember to count my/our blessings!