Monday, March 19th, 2012
Weekend Roundup
It was cold and rainy here! Here is how Bailey deals with cold weather: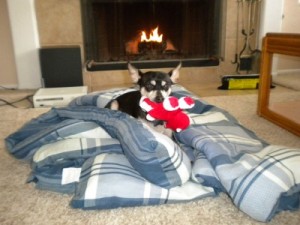 By the fire, on a quilt with a brand new toy. Rough life, Bailey!
Wizard and I went to see Act of Valor Wednesday night. It was the first movie we've been out to see since BLB had his accident. The movie was good, more of a guy movie than a girl. But good. We also rented Moneyball. Eh…a lot of hype and I found it mostly boring.
Sunday, I wrote for a while. I used my laptop so Bailey could sit next to me

Today is a long day. We have BLB's physical therapy and then we have to go get an xray. Tomorrow BLB sees the surgeon again. Keep your fingers crossed! His progress these last two weeks has been amazing. He's only using a cane now. I suspect he'll be at this level for a while, but this is still huge progress for him. And me since he can do so much more for himself now.
So how was your weekend?