Tuesday, March 20th, 2012
Tuesday's Gripe
This is me: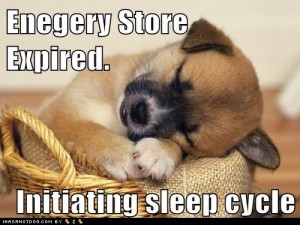 Except I'm nowhere near as cute, and my sleep cycle is malfunctioning. Yesterday (the day I typed this) was non-stop. And can I just say that I am getting really tired of the medical system that treats us like cattle?
It took over 2 hours to get Broken Leg Boy's x-ray.  The system is so sad, that when the lady FINALLY called BLB back, he hobbled on his cane, his surgery scar and swollen leg so obvious that people were actually wincing as he walked by. But that x-ray gal? She wanted to know if he had an injury or was just there cause his leg spontaneously started hurting.
SERIOUSLY?
BLB, who has way more patience than me, said, "Injury." Then let her shoot the x-ray. Once she saw it, she's like, "Oh, you had surgery." Yeah, I imagine the metal plate and seven pins were a real surprise to her since the cane, swollen leg and pronounced scar didn't tip her off.
Okay, yeah, I'm being a real witch. Sorry! I promise, I'll be better by tomorrow (Tuesday) when you all actually read this blog. After all, BLB is steadily improving, I'm getting some writing done whenever I can, and over all, life is good.
Now it's your turn. Anything you want to gripe about? Share now!