Friday, June 15th, 2012
Bath Fail :-)
We did BLB's pre-op appointment,  and he's all set for surgery sometime next Wednesday. They will call us the day before the with the time. Which frankly sucks, but there's nothing we can do to change it. This is how the outpatient surgery center works…evidently it's a Need To Know Basis, and they have determined we don't need to know the time.
I'm doing my best to write.  And Wizard, well as I write this blog, he's upstairs cleaning more blinds. He's finished all the downstairs ones.  Tonight I finally asked him, "Uh is there something I should know? Like we're selling the house?"
He just grinned and said, "Go write your book, Witch. You stick to what you're good at and let me handle what I'm good at."
Alrighty, then…
And this picture Bailey sent me with the message, "Witch, please come rescue me! Hurry!" (And this is not my bathroom! Just feel the need to clear that up)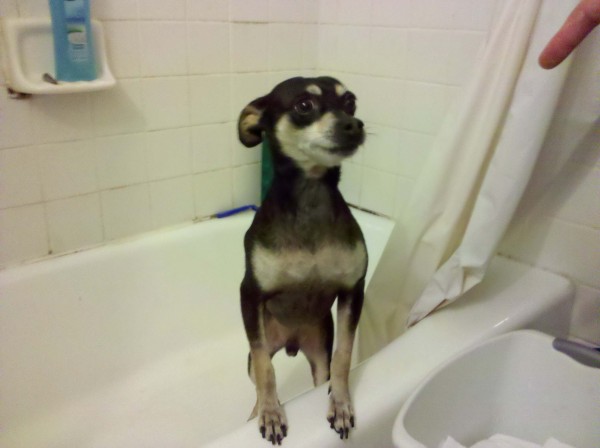 Have a great weekend, and Happy Father's Day!