Monday, July 23rd, 2012
Weekend Roundup
Good weekend! But tiring. I spent hours cleaning up the blog and FB. A lot of posts are gone, but those are the past anyway and we're all about the future here, right?  I'm not going to get into a big discussion about the why of it, except to say this: I believe in doing the right thing

On Bailey News–I had this on my FB but it vanished. Here's Bailey after getting into a box of donuts: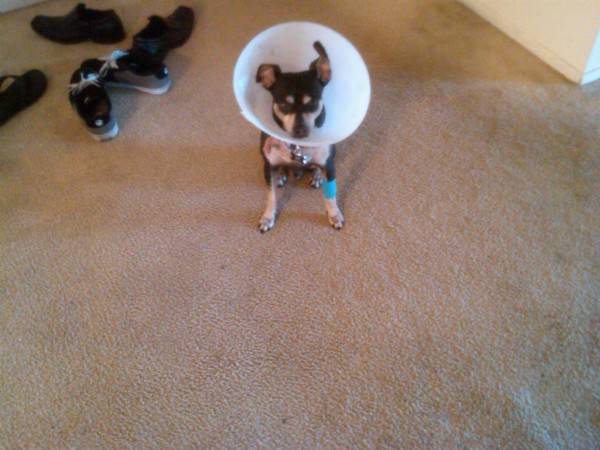 Bailey is fine now but he spent the night getting his stomach pumped.  He somehow jumped up and knocked the box of donuts off a table  (this is at Bailey's house, not mine) and wolfed down four before he was caught. Unfortunately, two of them were chocolate.  Bailey's fine, my sons' wallets however, are suffering.
I'm feeling better and better.  It's up and down, but that's normal with what I have. Wizard keeps telling me that I can call him anytime and he'll come get me at conference if I don't feel well.  I rolled my eyes and said, "I'll be fine. I can rest in my hotel room."
"Well you do have a birthday coming up. A big one." Okay he didn't say a big one. He yelled out how old I'm going to be. And he laughed. Went on teasing me about getting old.
Then I tried on my gown for the Awards Ceremony at Conference and showed him.
He was working on the computer, looked up and froze. "Holy shit. Forget me picking you up, I"m coming with you."
"But Wizard,"  I said innocently, "What are you worried about. You know I'm getting old now. No one will even notice this old gown on me…"
He narrowed his eyes. "You're screwing with me, aren't you?"'
I laughed and headed up with the stairs. "Every chance I get, Wizard, every chance I get."
Yeah…I may be old but I still know how to get to Wizard

How was your weekend?