Monday, September 10th, 2012
Weekend Roundup
Awesome weekend! Friday I met Biker Witch at Barnes and Nobles for coffee.  As she began talking fast and jumping subjects, I began to wonder if I was having some kind of stroke because I couldn't following her train of thought. Then I realized the problem and began to laugh. Hard. So hard I was sinking in my seat, head thrown back and snorting. Cause I'm classy that way.
Someone forgot to order DECAF coffee and it wasn't me. I mainline caffeine. Biker Witch, however does not. She was wired on caffeine. Like…WIRED.  Too funny! You had to be there. Then we had to go our separate ways to run errands. I got a text later from Biker Witch that she went to six different stores and got a lot done.
I started laughing all over again. I don't know why she puts up with me. Oh wait, I do.  When we got to the B&N we quickly found out that the Starbucks had run out of raspberry scones that Biker Witch really wanted. But I managed to get them to find one for her. So…just saying I'm not totally useless.
Saturday I went to my meeting. Most of it was spent with Laura plotting a secret project. We had a great time!
Sunday, Wizard and I hung out.
Here's how Bailey spent his weekend:
Saturday: Bailey uses his sad face to convince BLB to stop doing homework and play with him. Works every time.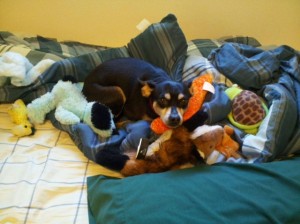 Sunday: Bailey goes to work with CPA Boy, takes a long nap then here he's checking into make sure CPA Boy is working. He needs more toys and treats.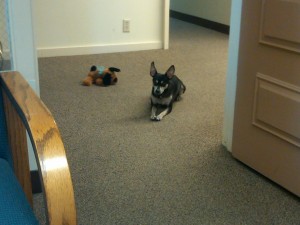 The boys text me regular Bailey Dog updates.
And lastly,  BLB is doing pretty well. He works more than I thought he would, along with carrying a full load of classes, but that's his call.  I trust his judgement and know he'll adjust as he needs to.
How was your weekend?