Monday, October 29th, 2012
Weekend Roundup
Bailey has a new sweater: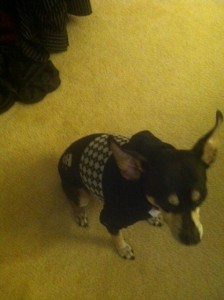 It's a bit of a crappy cell phone pic–but I don't get to see Bailey much anymore so I take what I can get. To make  a long story short, for years all three of my sons lived together in one house. Now middle son has moved into a condo, and Bailey went with him. This cuts my visits down by a third since all three boys each brought Bailey with them when they came out of visit. But Bailey is happy in his new home!
Oldest son and BLB  are still living together, and of course they can see Bailey time they like.  They can take him for visits too.  So Bailey has gone from two homes to three

In other news, Wizard and I were chatting with neighbors across the street.  The woman asked me if I wrote books.  (They haven't lived there long). So the conversation went like this:
Me, "I better get back to work."
Neighbor, "You write books?"
Me, "Yep. It keeps me busy."  (I usually don't say much because reactions can be range from nice to weird to annoying).
Neighbor, "What do you write, children's books?"
At which point Wizard bursts out laughing and decides to jump in with,  "No, she writes, sexy, trashy, dirty books." And then he laughed again.
I'm rolling my eyes, but Neighbor perks up and starts talking about trashy, sexy, dirty books she loves. My neighbor's a keeper…not so sure about Wizard. (And okay, I *might* have laughed at his description, it was kind of funny!)
But why does everyone thing I write children's book? I always get that question. Weird.
So how was your weekend?