Monday, November 19th, 2012
Weekend Roundup
It was a working weekend, but I got a lot done. Wizard's being extremely patient because he knows this will give me some time off on Thanksgiving weekend. By the end of today, I should have two projects off my desk, yay!
So Saturday, when I was cross-eyed from writing a synopsis for Entangled Publishing when I got this picture text: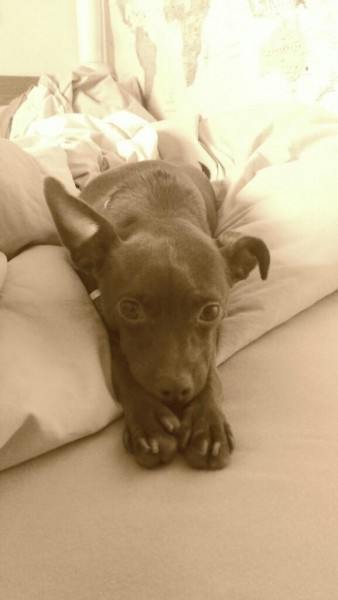 Isn't she pretty? This is Cookie, she's my son's fiance's dog, so that would make her my doggie-in-law

  Cookie had been out at the dog park playing all day, and here she's resting.  So Son's Finance and I are texting back and forth then I get this text:
"Girls Love CPA Boy!"
I text back, "CPA Boy give Fiance her phone back right now!"
Fiance texts me back, "How did you know he took it?"
I laughed. " Because CPA Boy is just like his dad, Wizard. Evil. And arrogant."
We laughed at them, and after that, CPA Boy was sulking.  Amateur, he can't fool his Mom/Witch!
How was your weekend?