Friday, November 23rd, 2012
Late Happy Friday!
Sorry I'm late.  Man we've been busy but it's been productive or fun, so I'm happy. Thanksgiving was really nice even through we just had two kids and Bailey dog. I'm used to doing big T-Days but there is definitely something to be said for small and casual.  It was easy and fun!
Loved seeing Bailey Dog! He's doing great in his new place, and now he has…wait for it…Spa Days. One of my son's roommates takes Bailey to Petsmart for the full treatment.  I don't know how Bailey does it but he gathers up all these people who fight to take care of him and play with him.
Even the dog, Penny, who he's living with. My son was telling me they throw of toy down the stairs, little Penny runs and gets it, takes it up stairs then drops it in front of Bailey. She fetches it for him. Unbelievable.
Here's couple phone pics of Bailey: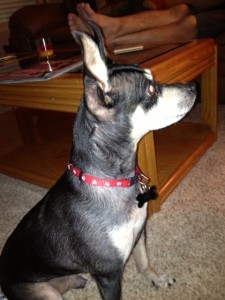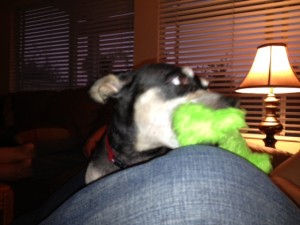 I love Bailey but it's not his looks getting him this treatment.  It's just his personality. He's so loving and fun, unless you're sad, then it's his mission to make you feel better.
Even Wizard is under his spell. I know because Bailey was scoring tiny pieces of carefully selected white meat turkey from Wizard. No one else feeds Bailey people food. It's a firm rule, but Wizard does it and our son totally lets him get away with it.
Then last night, for the first time EVER, we went out to a store to stand in line for two hours to get Wizard a camera. He wanted to leave, but I made him do it. He will buy me most anything, but getting him to spend money on himself is a major ordeal.  I finally told him if we didn't do this, the kids would end up buying it for him. That worked!
And lastly, I got the revisions for THE PROPOSITION from the editor. I am very impressed with her work, and now I work my butt off fixing it. But I'm excited, it's a challenge

How was your Thanksgiving? And hope you all have a great weekend!