Friday, December 14th, 2012
Happy Friday!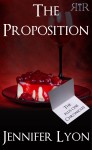 Yesterday, I sent off THE PROPOSITION to my editor for her last round of edits.  I think I've done a decent job, but we'll see what she says.  I probably won't get them back until after the holidays.  Once I do those final edits, it goes off for proofreading. Then formatting and I'll have it up by the February 26th launch date. Although I'm self publishing this series, it's going through the same (brutal!) revision and editing process as my NY published books.
Right now, this book is just a shade under 200 pages. I'm happy with that length since I have at least five planned

  After the holidays, I'll release an excerpt.
I managed to get a chunk of shopping done too. I still have more to do but I'm making progress, so it's all good.  Even better, my cold is improving. In fact, I saw my doctor for a routine visit on Wednesday.  He frets when I'm sick, claiming I minimize pain or illness.  So he did his  exam over my pointless protests then said, "You don't need antibiotics. You have a cold."
Well duh.  I'm pretty sure that's what I said. Like…four times."  I might gripe, but in reality, I am truly grateful for my doctor.  He saved me from a life I don't even want to contemplate.  I am thankful and appreciative every day that I can get up and live my life.  But he's still over protective, LOL! He and Wizard both! Oh and Biker Witch

Enough of that! So this weekend will be more shopping, some family stuff and who knows what else. Now if only I could find out what middle son wants. I'm reduced to begging him for ideas.
What about you guys? Are you still shopping? Anyone wrapping yet? Baking? Parties? Let's breakout the appletinis and cookies, and ring in the weekend!