Wednesday, December 26th, 2012
Holiday Hangover!
This is Bailey last night (Christmas), totally worn out.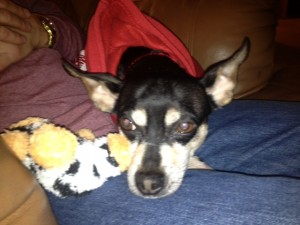 Our holiday was great, but somehow it's always exhausting.  All the boys were home, and of course, Bailey Dog with his new hoodie sweat shirt.  It's pretty cold here so Bailey was happy to wear it. He got a new cow-toy that he loves. He refused to put it down except when Wizard and the boys flew remote control helicopters all over the house.
Bailey HATED those helicopters.  He jumped up and snatched one mid-flight, but let it go before damaging it.  Bailey really is one of the boys

Wizard only works a couple days this week, but I need to get back to work and finish my last revisions/line edits on THE PROPOSAL. First, though, I need to get to the gym! And stop eating junk food!
How was your holiday?