Friday, December 28th, 2012
Super Awesome Present!
I got a huge surprise gift from Stephanie, one of our "witches" here on the the blog. I'm just amazed at her talent. She's one of our younger witches, never had a class, and yet she immortalized Axel and Darcy in a sculpture.
Wizard used his new camera to take some pictures: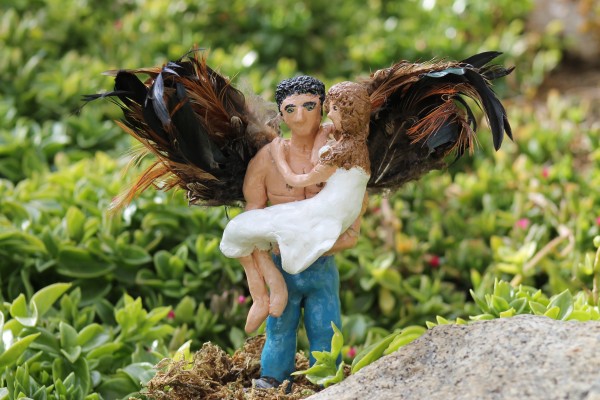 Ignore how tired I look here–I was battling insomnia and losing big time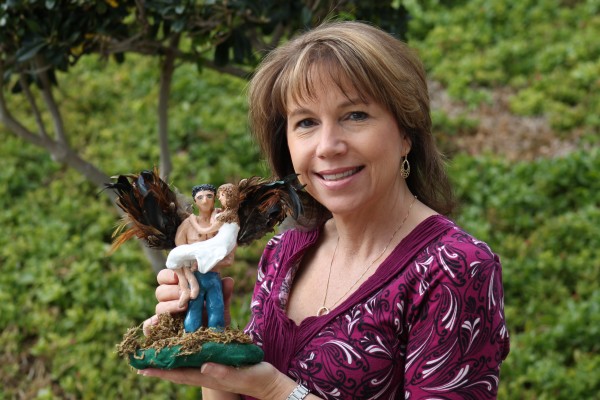 I love this statue! Thank you so much Stephanie!
Changing subjects here, last night I told Wizard, "I'm full."
Wizard says, "Stop eating cookies and candy."
Um, duh. So I replied nicely,  "They are getting old anyway. I'm going to throw them all out tonight."
"NO!!!" Wizard actually yelled, as if I had said I was going to kick a puppy.  "You can't throw them away. My witch made those for me.  Step away from my cookies!"
Sigh…what am I supposed to do? Wizard just isn't being reasonable.  I haven't gained much, but I need to get rid of the junk food!
And lastly, Happy Friday! The weekend is here! My plan is hang out a bit with Biker Witch, work on THE PROPOSITION edits and take down the Christmas tree and decorations. I figure I'll back vacuuming up the pine needles until Valentine's day.
What are you doing this weekend?
(FYI, I'm planning to blog on Monday, New Year's Eve.)