Monday, December 31st, 2012
Happy New Year!
I was going to write some kind of clever, sweet or inspiriting post.
Really. I was.
Then yesterday afternoon, when I normally write my posts, Wizard had an idea. It was freezing cold, so he lit a fire, put on a movie and poured wine for us.
So…um…what was I going to write about? I have no idea.
I blame Wizard!
This I do remember, I want to each of you how much  you mean to me. You guys hung with me through a really tough year, particularly the first half of the year in dealing with BLB's injury/recovery.  I appreciate your support and all the laughs we shared. It truly kept me, BLB and Wizard going when we were all just so tired, and each day was an uphill struggle. Then I would write a post, trying to find something amusing to talk about, and suddenly it wasn't all so grim.  That is a gift from each of you that I will always remember. Thank you for being there. I truly mean that.
Let's all raise a glass…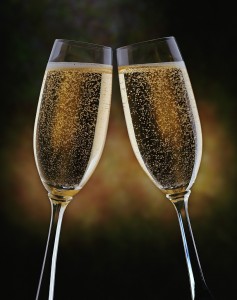 …to good friends who hold our hands through the dark days,  wildly celebrate our bright days and are there every single day in between!
Happy New Year!