Monday, February 11th, 2013
Weekend Roundup
My local RWA Meeting on Saturday was fantastic.  Patrick Brown from Goodreads spoke.  His talk was tailored to authors, but the main take-away for me was something I 100% believe: It's a place for readers to gather and talk about books. As authors we need to always be aware of that and tread carefully. I found Patrick was open, charming and very friendly.
For the question people have  asked about reviewers rating books before they could possibly have read them; the answer was pretty simple. There is no way for Goodreads to know if a reviewer got a copy or the book or not.  Unless a review is offensive or off topic, it's unlikely it will be taken down.
In addition to a great program, I saw a lot of old friends.  I enjoyed that so much, I wouldn't shut up when I finally  got home. Poor Wizard listened to me rambling on and on patiently, and then  smirked and said, "I was right in telling you to go. Say it, say I was right."
It took him feeding me a glass and a half of wine to get me to say it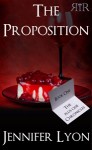 I can't believe how fast the approximate release date of February 26th for THE PROPOSITION is coming! Right now, I'm trying to get one more thing added to the formatted files.  And then  on March 4th THE BABY BARGAIN (under my Jennifer Apodaca name) should be out. I can't imagine what I was thinking trying to handle both these releases and get POSSESSION written.
I'm still waiting for the website makeover. My web designer is backlogged too.
If anyone wants to hop over to Goodreads and mark the book for your reading shelves,  here is the link to the  three books in The Plus One Chronicles (THE PROPOSITION is book one).
So how was your weekend?