Friday, March 22nd, 2013
Happy Friday!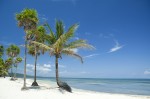 I'm dreaming of a tropical islands, hunks and appletinis.  Really, really dreaming of having nothing to do but sip a cool drink and read!
But I'm buried in work. And stuff like B&N having a major glitch in gifting e-books is making it really hard for me to deliver prizes. But…maybe when I get up Friday, it'll be fixed. I feel terrible making the winners wait! I even had Carla (my assistant) try it, but she got the same error message. So I called B&N and they said they are aware of it but couldn't tell me when it will be fixed.
So if I owe you a Nook version of THE BABY BARGAIN I will get it to you as soon as the problem is fixed!
Enough of all that

Saturday, Wizard and I are going to run around looking at stuff for this remodel that we somehow think we're going to manage to do. Call us crazy–because someone needs to!  And I'll be working. That's about it. I'm slammed on getting POSSESSION done by April 15th, but determined to do it! Plus I have all the blog tour interviews and blogs to do.
What are you doing this weekend?