Monday, April 8th, 2013
Weekend Roundup
The Baby Bargain Blog Tour stop today is Ex Libris. Stop over and enter for a chance to win the $50.00 gift card!
I now have a rough draft of POSSESSION! This is the absolute roughest drafter I've ever written.  I need to fill out one scene then I'll read through it and see if there's hope for the book.  I'm crossing my fingers. I'm trying to streamline my process into something a little faster. There's no way to make it easier, writing is always hard. But getting a draft down gives me something solid to work with and then I can agonize over the finer details, descriptions, word choices and finessing plot lines. The hardest task is always setting up and executing emotional scenes.  I really want to get POSSESSION to the editor next week and let her take a crack at it. I think I'll be able to do an even more powerful revision with her input. But it has to be in good enough shape for her to get a solid feel in order for her to  give me constructive feedback. So we'll see.
On Saturday, we got the lights in the bathroom. They look exactly as we hoped, we're so happy! We have a great handy man that is doing the electrical and plumbing for the bathrooms as we need it. Wizard could do this but he's busy enough patching, painting, etc.  He's done the lion's share of pulling all this together too. Weirdly he gets mad when I say that. He always says, "We're a team." And that's true. I've done everything he asked, including getting a quote on mirrors that is going to save us $270.00 so I'm not entirely useless. But he really has done most of it while I write.
Here's a picture of the granite I think we're putting in the two upstairs bathrooms. This piece is broken, but the slab will be a full piece with no seams. Then they'll cut out the sinks and faucets once they line them up.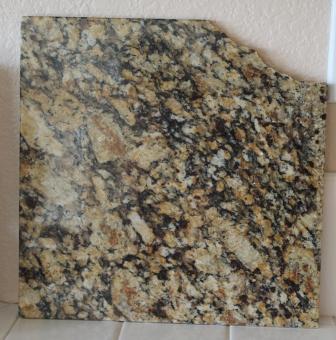 The granite color is petty bold, but I'm tired of so much white. In the kitchen we have something softer in mind. But we're going to see how they do in the bathrooms before we make a final decision on the kitchen.
So how was your weekend?