Wednesday, April 10th, 2013
Wednesday Worthy!
Today's The Baby Bargain Blog Tour stop is Page Flippers. Stop by and enter for a chance to win a $50.00 gift card!
So, The Baby Bargain has been out about four weeks now.  When I originally singed with  Entangled Publisher I was cautious and a bit unsure. But now, after three solid weeks in their top ten (the first week out the sales were just building) , I am thrilled with the publisher. I'm very pleased with the editing process (I'm sure mistakes got through–digital is like that for many reasons) but their editing at all the stages including revision, copy edit and proofreading was as rigorous as any I've ever been through. My editor not only edits, but answers every question I have and cares as much as I do about the book. So far, I love this publisher

 All they work me hard, that's something I respect (when I'm not griping, LOL).
Then there's my beloved THE PROPOSITION. It did pretty well for the first of three books in a series. I decided to take a risk and offer it to a reviewer known to be brutally honest.  She read it last night and contacted me today to let me know she really liked it. This, for me was a huge personal validation. The review will be up on her site next week, and I'll link it then. But you guys have been with me through all this so I just wanted to share.
Now  for our Wednesday Hunk, I went to iStock to use up some credits I had leftover there. It's a small picture, but what do you think?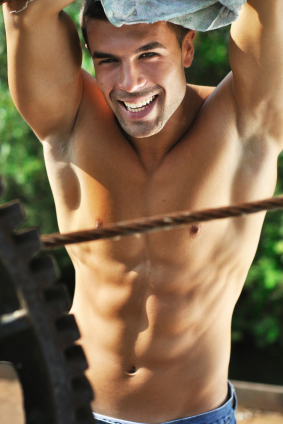 Is he hunk worthy?