Friday, July 12th, 2013
Happy Friday!
Shh, this is early, so don't tell anyone, but  PLAY HARD Book Bundle is being uploaded! That's 3 previously published sports romances, including THE PROPOSITION bundled together for 99cents.  This is the B&N Nook link  The Amazon Kindle one should be up today. I'll give you guys all the details on Monday.
Tomorrow Wizard and I are trying a new dentist that's closer to home. That's pretty much our big weekend plans.  Well Sunday he has some fun plans, while I get to stay home to clean and work. I'm getting glimmers of  "Oh, there it is, the story!" Then it slips away before I can catch it. Only to pop back up when I try to do something really insane like sleep.  The other night I was making notes on my phone at 1:30 am. Let's hope it pays off!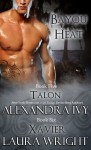 I'm also going to read Talon/ Xavier  the third release in Laura Wright and Alexandra Ivy's Bayou Heat Series!  I love these shapesjifter books!
What are your plans?