Monday, July 29th, 2013
Weekend Roundup!
So sorry for not answering Friday–it got a little crazy including a pretty serious health scare with my brother.  We'll find out more today, but I think he will be okay.  In all the activity, I just didn't get to answering the blog.  But I read all the comments, I always do.
Aside from my brother, the weekend was great. Friday morning,  I got my hair done. My hairdresser is a long time friend and we talked about how to wear my hair for the wedding. I always wear my hair the same, but I might have her put it up just for the change.  Now you'd think this would be the end of her advice, right?
Nope, she went on to lecture me about my fish belly white legs. She was offended at my calves–not at how huge they are, but how white. I laughed…but I'm also getting out in the pool

 So her lecture worked!
The rest of the weekend was spent on:
–Engaging in an epic battle with ants. They are currently in retreat but I think they are actually in strategic planning for a new attack.
–My regularly scheduled panic attack about the book.  (Wizard deserves a medal for living with this!)
–Spending awesome time in the pool. That pool is saving my sanity.
–Hours of phone calls for Special K's (Oldest Son's fiancée's)  bridal shower next Saturday. Wizard's two sisters spearheaded it and I'm very excited.  But stuff like this is always a time suck — however Special K is totally worth it!
–Break through on book and real pages written. Majorly stunned and I'm not going to jinx it by talking about it anymore. Hope it keeps working!
–Then while writing those magical pages (see above) I decided to go get a latte, but came home with two pairs of shoes instead. As I was driving, I just randomly decided to stop by the Naturalizer store to look for sandals.  Shoes are a major problem for me due to the RA and left foot and ankle aren't doing well right now. But because miracles were happening on Sunday, I found sandals  AND shoes that I think I can wear to the wedding. They match the dress so well! Here's a pic a couple pics: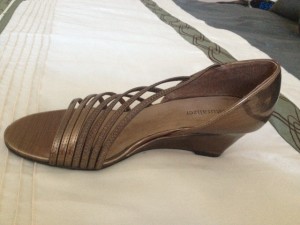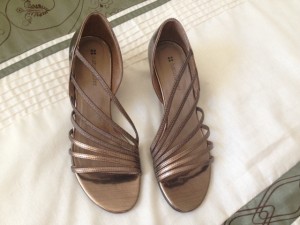 The wedge heel is higher than it looks in that picture.  I'm going to wear them around the house and see if they work. But I think they will and I'm thrilled.
This is just a little bit of all the stuff going on.  I'm really trying to write around all constantly shifting chaos.   And by the way, when I spontaneously decided to to the shoe store–I was dressed in shorts and a tank top along with wild hair, so of course I ran into someone I haven't seen in years. Figures, right?
How was your weekend?