Monday, October 28th, 2013
It was a low key weekend, which was nice.  Although CPA Boy and Special K are tormenting me by sending cute super cute pics of a dog they are thinking of getting. A little Min Pin that looks like a sweetheart. He's a rescue, and I think he's a few years old.
Who me? Jealous? Totally!
But then I got another text from Special K informing me that CPA Boy wants to name him Buttercup.
BUTTERCUP! For a boy dog! My son said this! So I did what I always do and relayed this to Wizard. Wizard got this hilariously offended look on his face,  stomped off and got his phone, then called both special K and CPA BOY's phones and said under no circumstances where they to name this boy dog Buttercup.
And I realized two things at the point: My family is nuts (uh, DUH!)  and CPA Boy cleverly set up his dad using me and Special K.
Kudos CPA Boy! I fell right into your evil trap.
I also worked, of course. Cleaned a bit. And then last night Wizard and I went out for dinner. I was good and stuck to my chicken fajitas.
Then this showed up at the table.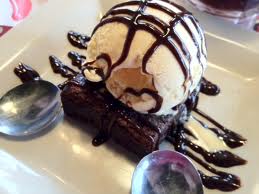 Probably because I ordered it.  If anyone finds my self confront can you send it back? Please? I'm running out of clothes to wear! And excuses!
How was your weekend?