Wednesday, November 6th, 2013
Wednesday Worthy
I'm making an apple pie today.  I know, I know! Cookies and now apple pie? With vanilla ice cream?
But it's Wizard's fault. He's been whining for apple pie, and since today is our anniversary…what could I do? I have to make it. It's a rule or something. Especially since we've been married soooo long. Wizard DESERVES apple pie!
And here's an example of WHY Wizard deserves apple pie from our conversation at dinner last night:
Me, "You're not getting me anything for our anniversary right? I'll be mad if you do."
Wizard rolled his eyes.  "Like I have had time to go shopping?"
That was true, but Wizard can be devious. "That's not an answer. We agreed, no gifts. We're going to to dinner and I don't want anything else."
He got this really mutinous look. "I can buy you something if I want to."
I finally realized how absurd this conversation was and started to laugh.  "I think we've been married too long."
He nodded while scarfing down the steak tacos I made for dinner.  "Probably."
"You still better not buy me anything."
He stopped talking to me, probably because I was annoying the shit out of him.  But like I said, we've been married a long time and I know exactly how to get back in his good graces.   So I said, "I'm making you an apple pie tomorrow."
And just like that, I was once again the love of his life.  See? He deserves apple pie!
Okay so this is an old picture I had on my files that I bought from Shutterstock. I don't even know if I've shown it to you all before. But here's our Wednesday Worthy Candidate: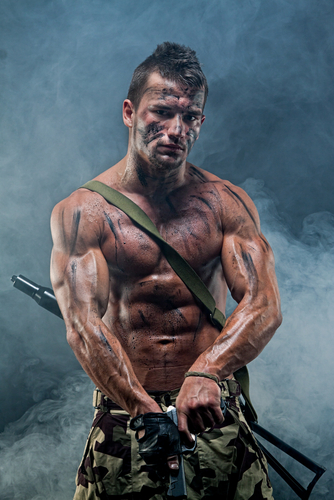 So do you think he's worthy?