Friday, January 3rd, 2014
Happy Friday!
I've been a complete moron and forgot to tell you all that there's a Plus One Chronicles Book Blast going on.  If you haven't seen it going around the various social media sites, you can link here and enter to win a $50.00 or $25.00 electronic gift card. There's more links on the site–you can follow those and enter at the various stops until January 5th.
Also. The Proposition, book 1 in The Plus One Chronicles, is now free on these sites:
Amazon Kindle  /  iBooks  /  Kobo  /  Smashwords

Yesterday was one of those incredibly frustrating days where I couldn't get my next Once A Marine book started. I always *think* I know the characters and plot well enough until I sit down to write, then I realize I need to do more prep work. So I spent yesterday thinking.  I made progress that way, but I still need to solve one more hurdle. And since I'm writing this blog on Thurs, what are the odds I'll think of what I need right around two am?

This weekend, I'm planning to go out to CPA Boy and Special K's to finally meet Corky–seen here sun bathing.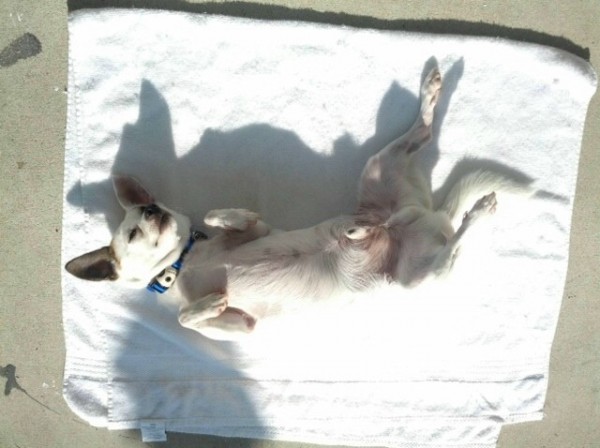 He's a kick back dog

I'm sure I'll love him! They also have Cookie, so I get to play with two dogs for the price of one!
Otherwise, I'm back to work, work, and more work.
What are your plans this weekend?