Friday, January 10th, 2014
Happy Friday
So how's all your New Year going so far? Mine's been frustrating, but that's okay, we all love a challenge right?
You're laughing with me, not at me, right? Sigh…things will get easier. I'm working on the problem of understanding my characters well enough to get my book started.  Hunter and Alyssa have real potential!
Switching subjects, once in a while, Biker Witch (my sister) texts me random pictures. Here's one: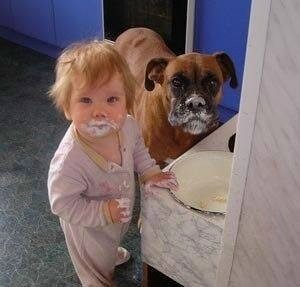 Growing up, I had a boxer just like this. He was my best friend, we played together all the time, and got into a LOT of trouble together. I'm told I covered him in baby powder (I don't remember–Biker Witch could be making that up!) among other things. That dog would put up with anything from me and never get mad.
Isn't it amazing how a picture can invoke such powerful memories for us?
And of course, this makes me miss Bailey Dog

My weekend will mostly be work. What are your weekend plans? And did you have a dog growing up?