Monday, February 3rd, 2014
Weekend Roundup
Success!! We got the new computer/monitor/printer up and running! It's such a relief, and I'm very happy. On top of that, we made a dent (only a dent!) in cleaning out some closets and re-organizing. The old computer is now up and running upstairs in a spare bedroom, all I need in there is a chair, side table and reading light and that room will be exactly what I want–a backup office and work space. I already have the chair picked out, just haven't bought it yet.
Oh and while I was downloading some things we needed on the new computer–I picked up a malware. That gave me a bad moment, but I was able to find it and uninstall it, do some cleaning and it's gone.  It's ridiculous how pervasive that crap is. My anti-virus software is up and running now–it wasn't at the time which was my mistake for sure.
All in all it was a productive weekend although I didn't get much writing done. But with all the other stuff out of the way, I feel much better about this book.
Changing the subject, BLB (youngest son) dropped by Sunday morning unexpectedly.  That's not all that unusual and of course, we're thrilled to see him anytime.  What's interesting is that he timed it to EXACTLY when I was cooking breakfast, so he scored homemade breakfast of bacon and pancakes. How do kids do develop that incredible timing?
After breakfast BLB was helping Wizard with something on the new printer and I pulled up pictures of chocolate candy cakes and asked BLB if he wanted this cake for his birthday that's coming up in a few weeks: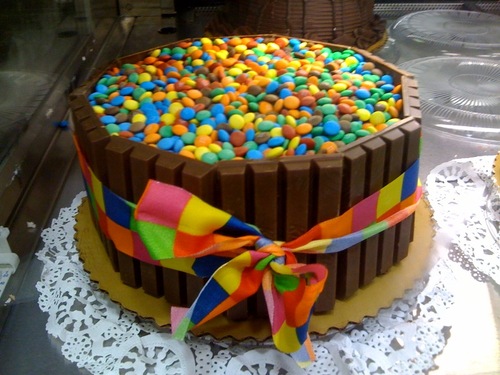 So BLB and I are discussing this cake (he wants it!) and Wizard turns to the two of us. "Really Witch? Is this the time to talk about cake?"
BLB and I both answered, "There's always time for cake."
Wizard knew when he was beat and left us to make the important decisions involved his birthday cake (he's insisting I also put M&Ms inside the cake while I'm picturing the Sugar Police and the Trans Fat Task Force teaming up to raid our home–BLB assures me that this won't happen). Anyway once BLB and I agreed, he went back to helping Wizard.
And last thing for the day, I only caught a few minutes of The Kitten Bowl and The Puppy Bowl, but what I saw was so cute! I ignored the Super Bowl to do a little work but Wizard watched it.
How was your weekend?