Monday, March 10th, 2014
Weekend Roundup
This weekend was another blur! Middle Son brought Bailey over Thursday night, and we took him home last night. Bailey was good as gold, here he is once again waiting for me to get done working so we can play: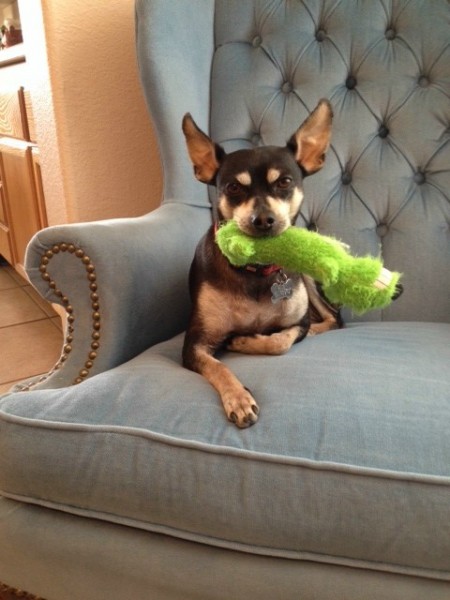 Bailey's absolute favorite thing now is Lizard Hunting.  This time, he actually caught two of them.  The first time, I was stunned. Bailey snatched up the lizard, turned to me–and I swear–SMILED with a lizard in his mouth.
Ugh. So I yelled, "Bailey drop it."
He dropped it, then picked it back up and showed me again. Double Ugh. "Drop it Bailey!"
We repeated the same routine until I finally picked up Bailey and the lizard ran off. For whatever reason, Bailey wasn't really trying to hurt him, he just wanted to play.  I've seen Bailey rip through a hard plastic fence with his teeth once–his teeth are brutal if he chooses. So I'm assuming he just wanted to play.
The second time Bailey caught a lizard (seriously this NEVER happens, so I'm not sure why he happened to catch two this weekend), Wizard was with me and bellowed, "It's in his mouth. He's got it in his mouth!"
Now I'm trying to tell Bailey to drop it while laughing at Wizard's reaction.  I'd told Wizard about the first lizard Bailey caught so how exactly did he think Bailey caught it–with a net? Anyway, Bailey dropped the lizard and I made him go in the house to give the lizards a chance to regroup.
Saturday, I went to my RWA meeting and had a great time seeing old friends. I'm so glad I went! As usually happens, I got a lot of ideas that are helping me with my book.
Sunday BLB (youngest son) came out to hang with Bailey. Then BLB had some homework to do and I found him in MY upstairs office using MY special chair: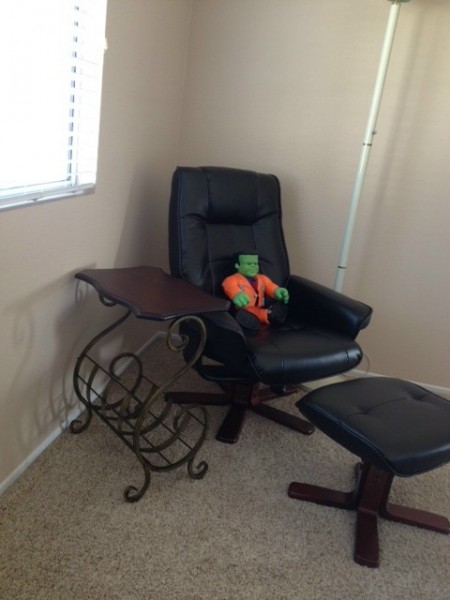 Okay that's not really BLB, that's Frank.  BLB is much bigger than Frank

I found Frank when I was cleaning out closets. But that is my chair that I love so much. It's perfect and BLB loved it too, and even tried to talk me into giving it to him. Not happening!
I managed to get some writing done. But these next three weeks are going to be a major writing marathon for me.
So how was your weekend?