Friday, April 11th, 2014
Happy Friday!
I missed Wednesday's post. Everything is okay, it's just been a little hectic. Wizard had to go back to the doctor for his sinus infection, and Bailey's here (distracting me!) until sometime this weekend, and a whole of other stuff.
I'm writing too and making  slow but steady progress.
I want to talk about BLB (youngest son) for a minute. A week or so ago he was offered and internship with a CPA/Financial Planning business. Wizard and I are insanely proud of him. He's still finishing his degree, but this is a great opportunity for him and will look solid on his resume.  I'm even more proud because he earned this internship. He was working a few hours a week, helping out during tax seasons, and impressed them so much they offered him the coveted internship. And he did all this while holding down another job.
This for my boy whose dreams  crashed two-and-a-half-years ago when he had the freak accident that seriously injured his leg. BLB lives with pain and limitations but he has accepted his new reality, set new goals, and he's achieving them.  In a lot of ways, he's my hero.
Changing the subject, here is Bailey right after I took him for a LONG walk: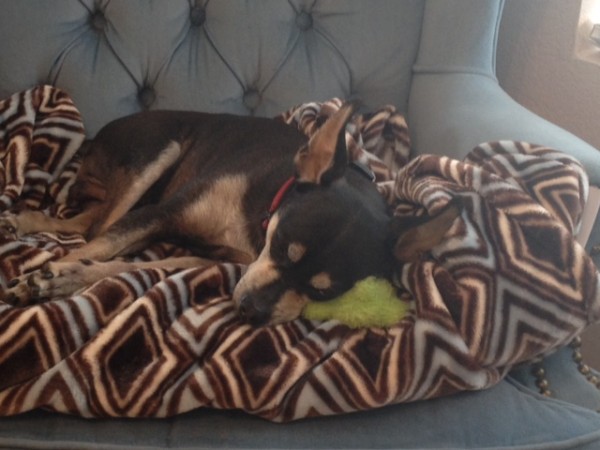 I wore the little guy out!
I'll be working this weekend, and maybe cleaning. What are your plans?