Monday, June 9th, 2014
Weekend Roundup
Great weekend except I bet on the wrong horse, dang it. Let's start with the great part: I had lunch with Biker Witch (my sister) and she's doing so much better now after her back procedure.  She looks great and that made me incredibly happy. At lunch we were catching up and chatting away when I said, "I want to go by Pet Co on the way home. They might have dogs there."
Biker Witch is a big dog lover, so she jumped at the chance. "Let's go!"
We pull up and much to our surprise, the rescue people had just arrived. Most of the dogs were still in their crates in the truck–except one. A little dude who was so cute.  I walked up to the guy holding him on the leash, and the guy says, "You're welcome to pet him but he's kind of shy."
"Really?" So I crouched down and this super shy dog crawled right up in my lap. I was toast. Seriously, I fell so hard for this dog. Such a sweetie.
Here's a pic of him. (Ignore me–I was causal and not planning on a picture).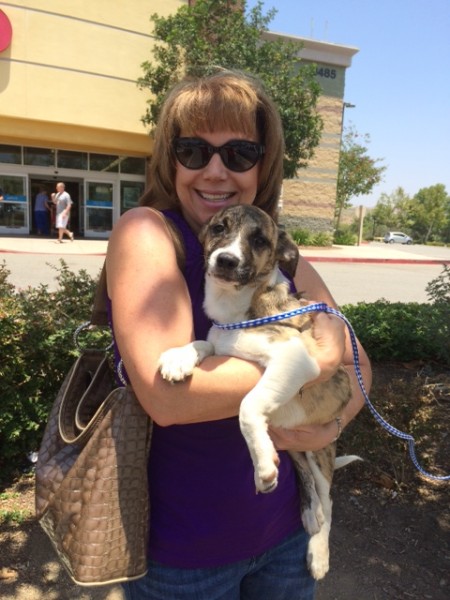 Biker Witch took this pic and sent it Wizard. (Because Biker Witch was totally egging me on AND she loves to yank Wizard's chain.)
Wizard replied, "She'd better not bring him home."
So I texted Wizard, "But he loves me."
He tested "Oh well."
I shot back,  "Meanie." Because I'm a master word smith like that

Fast forward a few hours later, I'm home trying to work and not think about the dog.  I could get the dog–believe me, if I dragged Wizard down there to see him, he'd cave instantly because he's a big softy like that. But we have stuff going on, it's not the best time, I NEED TO FINISH THIS BOOK! So I'm trying not to think about it.
Meanwhile, Wizard's super excited about the  Belmont Stakes horse race. For weeks he's been telling me he thinks California Chrome is going to win it and the triple crown. Friday, he stood at my desk and announced, "I have a feeling California Chrome will win."
So the race is almost on, and I settle in to watch it with him. A few minutes before the race, Wizard does a complete about face. "I don't think California Chrome will win. First off that's weird for Wizard–when he commits, he's in so that surprised me. "What do you mean? That's all you've talked about."
Without hesitating, he said, "That's because I bet $10.000 dollars on California Chrome."
I laughed in his face. "Liar." He was lying, he'd never do that. Ever.  But brilliant inspiration hit me on how to get even with him. "You want to bet?"
He raises his eyebrows. "I'm listening."
I'm sure he was. I have a history of, um, let's say stimulating bets.  "If California Chrome wins…" I trailed off suggestively.
Wizard leaned forward, forgetting the TV. "What?"
"You have to go look at that dog with me."
He snarled something about me being a tease…but he agreed and we watched the race.  For weeks, all I've heard from Wizard is how amazing this horse is.
Wizard was WRONG! The horse lost. Not only didn't we go look at the dog, but Wizard's been torturing me for betting on the wrong horse.
So how was your weekend?