Monday, July 14th, 2014
Release Day!
I had a good weekend, just crazy busy as usual. It's been really exciting to gear up for the release of HTH, but man I wish I was done with this book I'm working on. I'm getting there, just slow with constant interruptions.  You know who is NOT interrupting me? Wizard! He says I'm his Retirement Plan.  Yeah, he's Mr. Romance, LOLOL!
So before I get to the promo portion of this blog, how was your weekend? I always want to know!
And now for the PROMO:
HER TEMPORARY HERO releases today!  It will be 99 cents for one week only!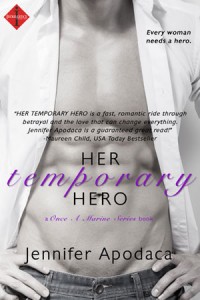 And there are TWO blog tours going on. The first is Entangled Blot tour set up by Sizzling PR 

7/14 ~ Toot's Book Reviews ~ Interview, Promo 
7/14 ~ Night Owl Reviews ~ Promo 
7/15 ~ Talking Books Blog ~ Promo 
7/15 ~ Book Nook Nuts ~ Promo 
7/16 ~ What Is That Book About ~ Promo 
7/16 ~ First Page to the Last ~ Review
7/17 ~ Sapphyria's Book Reviews ~ Promo 
7/17 ~ Romantic Reads and Such ~ Promo 
7/18 ~ In Shadows ~ Promo 
7/18 ~ Becky on Books ~ Promo , Review
7/21 ~ She Hearts Books ~ Review
7/21 ~ A Passion for Romance ~ Promo
7/22 ~ Kate George-Author ~ Promo
7/22 ~ Must Read Faster – Promo
7/23 ~ Ramblings of a Book Lunatic ~ Promo , Review
7/23 ~ Viviana, Enchantress Of Books ~ Review
7/24 ~ Books-n-Kisses ~ Promo 
7/24 ~ Sizzling Hot Books ~ Promo
7/25 ~ Reading Between the Wines Book Club ~Promo
7/25 ~ You Gotta Read Reviews ~  Promo
And this second one is set up by Carla at Book Monster Promotions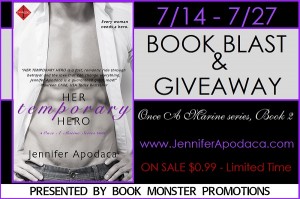 Jennifer Apodaca's HER TEMPORARY HERO Book Blast  7/14 – 7/27 
7/14       Shayna Renee's Spicy Reads
http://shaynareneesspicyreads.com
7/15       Book Monster Reviews
7/16       Eclipse Reviews
http://eclipsereviews.weebly.com/
7/17       Karen Swart
http://authorkarenswart.blogspot.com
7/18       Vampires, Werewolves, & Fairies, Oh My
http://vampireswerewolvesfairiesohmy.blogspot.com/
7/18       For Whom The Books Toll
http://forwhomthebookstoll.blogspot.com
7/21       More Romance Please
http://moreromanceplease.blogspot.com
7/21       Monlatable Book Reviews
http://www.monlatablereviews.com/
7/22       Darkest Cravings
http://www.darkestcravings.weebly.com/
7/24       RomanceJunkies.com
http://www.romancejunkies.com/rjblog
7/24       Mythical B0oks
http://www.mythicalbooks.blogspot.ro/
7/24       Dirty Girl Romance
http://dirtygirlromance.blogspot.com
7/25       Literary Nook
7/25       Manga Maniac Cafe
7/26       The Reading Cafe
http://www.thereadingcafe.com/
7/26       Kristina's Books & More
http://kristinasbooksandmore.blogspot.com/
7/27       The Lusty Literate
7/27       The Snarkology